Giving a plush toy as a gift is a thoughtful and endearing choice. Birthdays, holidays, anniversaries or special days like Valentines, a plush toy is a great novelty gift. It doesn't matter what the age of the person you are giving it to; it's always an appreciated gift. These stuffed animals come in all shapes, sizes, and colors, so you have to figure out what you want to give.
There are a few things you have to take into account when picking a souvenir:
Plush Toy Size
The standard plush toy size is what you see on display stands, which are just the right size for kids and adults to carry and hug. There are novelty sized mini plushies, as small as 10 cm to something larger than an average person.
The price of the toy scales with the size. So if cost is a factor, this is something to consider. If buying for kids, think of what the parents would be comfortable with.
Giant plushies make great statements for both children and adults. Mini plushies are a good idea if you want to give to more than one person. Medium to large-sized toys is a safe bet. Plush toys manufacturers make it so that everyone has a variety of sizes to enjoy.
Plush Toy Style
There are thousands of style for animal plushies. There are ones based on seasons or specific days. You can also find personalized baby stuffed animals that come with a special message. There are even plushies that have costumes that show a particular kind of occupation — doctors, police officers, and a lot more.
These toys also come in different colors. By default, teddy bears come in brown, but it can come in other colors as well. Thickness, style, and length of fur can also vary. You have to know what the person you're giving it to would like. And they even come in different animals.
Buying for a collector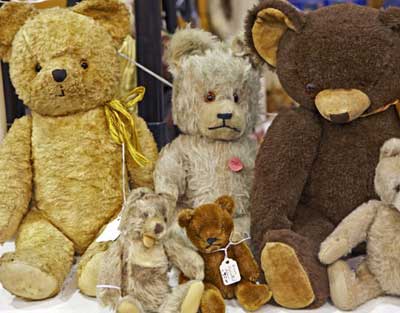 Photo source: Totallyteddybears.com
If the person you are buying for is a collector, getting them a vintage teddy bear is a likely course. Think of the collection and preference of the recipient. Antique teddy bears are expensive, so prepare yourself.
Make sure that you also purchase from reputable stores, whether from a physical or online store. You may end up spending for something not worth its value.
These tips can help you pick the novelty gift. Stuffed animals are great gifts to give anyone for any occasion. It's not a lazy pick, and you can give a lot of it. Not just as a holiday gift but also corporate parties and like events.