The love for teddy bears has going on more than a century now. Unsurprisingly, teddy bears would get into a lot of records in all that time. These stuffed toys particularly got into the Guinness World Records, which celebrates extraordinary feats, acts, and objects.
You have to give it to the people who went out of their way for their teddy bears to win. Or didn't realize that what they did would make them win.
Most expensive teddy bear of antique origin
Photo source: Indiepopmarket.com
For $171,600, a Steiff bear named Teddy Girl was sold during an auction at Christie's on 1994. The winning bid came from a Japanese business person named Yoshihiro Sekiguchi. The price is more than 18 times the estimated price and twice the previous world record.
Teddy Girl also happens to be a WW2 veteran. Her former owner was Colonel Bob Henderson and took her everywhere with him, even the D-Day landings. He was the small arms adviser of Field Marshall Montgomery.
Largest stitched teddy bear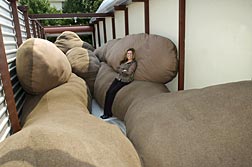 Photo source: Tulsaworld.com
The largest stitched teddy bear measures 55'4″ lengthwise. Dana Warren made the biggest teddy. Warren previously held the record when she built a 38-foot, eight 1/2-inch bear in 2001. The bear was completed on June 6th, 2008 and was on display at Wichita, Kansas, USA. The bear was named C.T.Dreams, which stands for Connect The Dreams.
Most expensive teddy bear
Photo source: Extravaganzi.com
A Steiff 'Louis Vuitton' teddy bear made in 2000 and measuring 17 in sold for $182,550 at Christie's, Monaco. Much to great fanfare and surprise came with the revelation of the price. The bear had gold and had eyes with sapphires and diamonds.
Jessie Kim from Korea purchased the bear for the Teddy Bear Museum in Jeju, Korea.
Smallest commercially available stitched teddy bear
Photo source: Pinterest.com
Cheryl Moss from South Africa specializes in making and selling 'Microbears' for six years in specialist teddy bear stores. It was no surprised that she would make The smallest  stitched teddy bear, measures 0.29 inches. Microbears range from 9 mm to 13 mm in size.
Largest collection of teddy bears
Photo source: Guinnessworldrecords.com
This record belongs to Jackie Miller from Hill City, SD, It was awarded on 2012. She has 8,026 teddy bears. Jackie shared that she loves teddy bears, and her massive collection brings her comfort and joy.